About Clear View Window Cleaning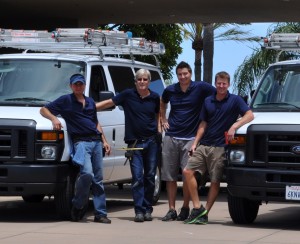 Christopher Borst started Clear View Window Cleaning of North County as a home business in 1983 after discovering the absence of professionals qualified to meet the unique window cleaning demands of this areas large, beautiful homes. Since then Clear View has grown from its humble beginnings into a thriving business covering Del Mar, Encinitas, La Jolla, Rancho Santa Fe, Solana Beach and surrounding areas.
As a local, family owned and operated company, Clear View is specially qualified to meet the needs of your luxury home.  In 2004 Christopher's oldest son, Kendall joined the team to work alongside his father and help run the family business.  Following in Christopher's footsteps, you can be sure you are in good hands with Kendall and his team.  His professionalism and attention to detail are guaranteed.  Christopher's team of uniformed professional window cleaners are courteous and respectful, and will complete your job in the most thorough and efficient manner.
Both San Diego natives, Clear View owners Christopher and Cameron appreciate the areas sophisticated homes and gardens, as much as its picturesque lagoons and beaches, and will ensure their crew do the utmost to maintain the beauty of your home.
Clear View Window Cleaning is proud to be a Green company!
Testimonial on Yelp:
Chris has cleaned our windows for 15 years. He and his team are always on time and Chris has never once cancelled an appointment.  His team shows up ready to go and with Chris onsite managing the work, he and his team are always are in and out promptly. While I value more than just price when choosing a window washer,  Chris has the best pricing for my house size. I HIGHLY recommend Chris and his team at Clearview in Del Mar.  Prices are reasonable and service is impeccable and has been for 15 years. Please be aware that there is another company out of vista that is using the name Clearview.  Friends who choose that Clearview mistakenly were not pleased with the service, so be sure you select the right Clearview: Clearview in Del Mar/Carmel Valley Chris 858-481-5512 You will not be disappointed.
Kari B.